In a large bowl, whisk together these ingredients:
2 cups flour                          1 1/2. tsp. baking powder
1 cup brown sugar             1 tsp. baking powder and baking soda
1 cup quick oats                   1 tsp. salt          1 tbsp. grated lemon rind
In a small bowl beat together:
2 eggs                        1/3 cup vegetable oil
1 tsp vanilla              1 1/4 cups of milk (buttermilk if you have it on hand)
Pour the wet ingredients over the dry,  sprinkle on  1 cup of fresh or frozen blueberries and stir until dry ingredients are just moist.
Spoon into paper lined or greased muffin cups. Sprinkle the tops with coarse sugar or oat flakes.
Bake at 375F for 20 minutes (or until tester comes out clean).
This recipe makes 12 large, 16 medium or 18 small muffins.
This recipe comes from the Canadian Living Cookbook ( 2001)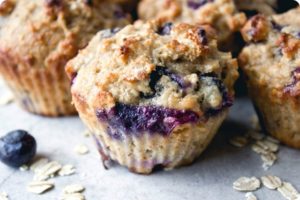 and I make it all the time!